Kristy is the co-guide in the DVMS Toddler Community. She has fond memories of her early years as a student at Cambridge Montessori School, way back in the 70s. Once she completed her Honors BA in English Literature, she knew she was destined for some sort of career in Montessori. She attended the Foundation for Montessori Education in Toronto and attained her AMI Primary training in 1998 (where she and DVMS administrator Holly first met).
After staying home for a few years with her children, she was given the opportunity to start a Toddler Room at a local Montessori school in Waterdown. Eventually, Kristy took a tour at DVMS (at Holly's persistence) and loved the feeling of community which was so evident in every aspect of the school.
Kristy, her husband Ben, and their four children reside in Waterdown; their children attend the Lower and Upper Elementary levels at DVMS and the adolescent program at Strata Montessori Adolescent School.
Kate Millie is a guide in the DVMS Montessori Toddler Community. Kate holds her AMI (Association Montessori Internationale) Montessori teacher certifications at the Assistants to Infancy (0-3) and Primary (3-6) age levels, as well as a Masters in Education. She has been working as an advocate for Montessori education for over a decade.
Kate spent five years living and working in Beijing, China, where she worked at two large International Montessori Schools as a Casa teacher and later as Academic Director, helping to guide and consult with teachers and administrators to better their Montessori practices. In the middle of her time in China, Kate moved to Italy for a year while her husband (DVMS Upper Elementary guide Terrence) trained at the AMI Elementary training program there. Kate spent her year in Italy as a course assistant for the Elementary program and enjoyed lots of yummy gelato and pasta.
Back in Canada, Kate was busy raising babies and running her own home Montessori program for babies and toddlers before opening the DVMS Toddler Community in 2015. Kate is thrilled to work in the same school as her husband and watch her daughters, Olive and Zada, thrive in their Montessori communities.
You'll find Kate in the Toddler Community, smiling from ear to ear, surrounded by amazing little people.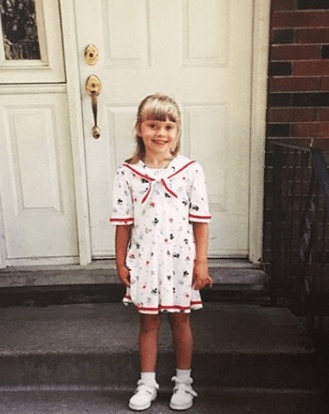 A BA Grad from Brock University, and certified Assistant Montessori Instructor, Ally has found her niche in the Toddler Class at DVMS. Aiding in the growth and development of these little people fills her heart. Ally discovered the Montessori way of learning while nannying for a Montessori family. She continually finds herself surrounded by youth. As a professional Figure Skating coach at several clubs and Summer Camp Director, Ally gives all she can to this youthful generation.
Growing up Ally participated in many sports, most competitively figure skating. She continues to enjoy gymnastics, soccer, curling, track, hiking and water sports. Ally is a country music fan and enjoys spending weekends with friends and family at the cottage.
Stef grew up in Hamilton and moved to Vancouver, where she obtained a B.Sc. at UBC in Sustainable Agriculture. Ten years later, she found her way back to Hamilton with a new appreciation for the area. Before returning, she worked as a tree-planting cook, drove through the U.S., and traveled in Central and South America, and Europe. Stef ventured into the world of Montessori after happening upon a dusty copy of Maria Montessori's Own Handbook and reading it from start to finish in one evening. She was hooked and completed an assistant course a few months later, in 2012. After one year of working as an assistant in Thornbury, she decided to begin her teacher training. Stef was thrilled to complete her practice teaching at DVMS in Casa North with Dylan, in the winter of 2014. Now a MACTE certified Casa Guide through CMTEI (Canadian Montessori Teacher Education Institute), Stef has worked alongside Elizabeth Flenniken in Casa East and, after an extended maternity leave, has returned to take on a new role in our Learning Resource department. Stef's baby is now a grown up member of our Toddler Community. She enjoys practicing her Spanish with those willing, math riddles, reading a good book, and cooking up a big pot of soup.
Mairi Achong is the Learning Resource Specialist at DVMS. She was bitten by the Montessori bug when her little sister, Marissa, attended a Montessori school as a child. Mairi completed her practice teaching at the Ecole Montessori International after receiving training from the Montessori Centre International, based in the UK. She taught in francophone and bilingual Montessori schools in Montreal for fourteen years, and is passionate about inclusive education.
For the last several years, Mairi has specialized in adapting the Montessori curriculum for children with learning differences. She holds MACAR (Montessori Applied to Children at Risk) training from the Shelton School in Texas, and is committed to helping each student realize his or her goals. Mairi is the mother of four children (one in each Montessori plane of development), and lives in Hamilton with her family and a multitude of cats.
A little over 10 years ago Tony Evans had some babies and realized his career as a rock star (mostly in his own mind) was over. In his search for a new career that would allow him access to both his unique, passionate spirit and the fact that he had no interest in acting like a grown up, Tony went back to the beginning. He was a Montessori student from the age of 3, in Hamilton, and found a job as a Montessori assistant in a school on Toronto Island. One thing led to another and a few years after graduating as an Elementary guide in Bergamo, Italy, Tony was running the elementary program at Dearcroft, one of the most well established Montessori schools in Canada. Always the naive idealist, Tony determined he would start his own school built on a pure commitment to Montessori philosophy. Dundas Valley Montessori School has grown from 8 children to almost 200; from a small apartment above an abandoned greenhouse to a 28,000 square foot school on 5.2 acres of property. Though proud of his school, he recognizes that he is only responsible for creating an environment in which this school could flourish, and that the true path to the success of DVMS was created through a commitment to the Montessori fundamentals of faith, humility, diligence, community, and unconditional love.
Holly is an AMI (Association Montessori Internationale) trained Montessorian with a background in Early Childhood Education. Holly taught at two other Montessori school before coming to DVMS to start our Casa East Classroom. After 20 years in the classroom, she decided to take on the role as a DVMS School Administrator and Head of Admissions. Holly has three children of her own — all at DVMS from Casa to Strata. Holly has a passion for teaching children about healthy eating and cooking and in her spare time you can find her in her kitchen or lifting weights at the gym.
Kathleen MacKinnon is head of Elementary Administration, She attended the University of Guelph and holds a BA in Psychology. Kathleen obtained her Montessori teaching certificates for Casa, and Elementary from the Toronto Montessori Institute. Kathleen has been teaching for over 20 years in London, Oakville, and of course Dundas. In her free time… oh that's right, she doesn't have any because she is a busy mom of two active, little girls. Before parenthood, Kathleen enjoyed traveling around the globe as the Children's Summer Camp Chair for Children's International Summer Village. Now, she enjoys spending time with her family, golfing and biking. She looks forward to the time when her girls are a bit older and they can all enjoy travel adventures together.